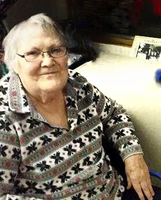 Clauda B. Durant
Oneida– Clauda Durant, age 80, formerly of Farrier Ave. and most recently resided at Oneida Healthcare Extended Care Facility, passed away on Friday, March 30, 2018, at the Oneida Healthcare Extended Care Facility with her loving family by her side.
Clauda was born August 7, 1937 in Manlius, NY to Claude Miner and Isabelle Stringer (Miner, Snyder).
Prior to her retirement in September of 2002 Clauda was employed as a machine operator with Oneida Molded Plastics She was a kind woman that welcomed everyone with a warm smile and open arms. Clauda enjoyed working on her needle point, watching NASCAR, doing crossword puzzles, spending time with her family, and was a huge Elvis fan.
She is survived by her children; Sandra (Andrew) Weir of Universal City, TX; Denise (Daniel) Egleston of Jourdanton, TX; Gail (Greg) Parsons of Verona, NY; Richard F. (Laurie) Durant of Falls City, TX; and William (Stacey) Durant of Canastota, NY. She is also survived by three stepchildren; Terri Brundage, Richard P. Durant Jr., and Darlene McDermott; as well as, 15 grandchildren, 6 step-grandchildren, and 19 great-grandchildren (with another expected in June of 2018); 2 brothers and 3 sisters; her dearest friend & sister in law Christine Durant; several nieces & nephews; and her many, loving Durant in-laws. She is predeceased by her parents, 2 infant daughters; Wanda Marie (1960) and Rebecca Lynn (1972), and her best friend & the love of her life, Richard P. Durant Sr.
Clauda's family would like to thank the 2nd Floor staff at the Oneida Extended Care Facility for the wonderful care and treatment they provided her with during this past year.
Family and friends are invited to call on Friday April 6, 2018 from 5:00 to 7:00 p.m. at the Malecki Funeral Home Inc., 23 Front Street, Vernon, NY. A funeral service will be held at 7:00 p.m. at the funeral home immediately following calling hours. Burial will be in St. Helena's Cemetery, Oneida, New York. Online condolences may be sent to maleckifuneralhome.com