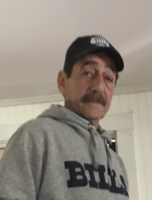 Frank V. Bambino
Vernon-Frank V Bambino, 73, a lifelong resident of Vernon, NY passed away at home peacefully after a short illness.
Frank was born November 12, 1949 in Utica, NY to Joseph and Emma Bambino. In 1968, Frank graduated from VVS High School. He then enlisted in the US Army where he was a Medic for the Vietnam War until he was honorably discharged. After being discharged he attended the University of Toledo to further his medical studies. Frank then became a horse farrier as he was known by many people. He loved spending time with his six grandchildren, golfing and watching horse races. Frank will especially be remembered by his contagious smile that would light up a room.
He is survived by his children Nancy Bambino of Vernon, NY, Emma Bambino (Michael), Verona NY and Joseph Bambino (Jeanette), Westmoreland, NY. six grandchildren; Gianna, Tyler, Aubrianna, Travis, Alyssa and Ryan. 2 brothers; Michael and Joseph Bambino and a sister Maria Marris. He is predeceased in death by his parents Joseph and Emma Bambino and also his best dog friend "Buff".
Graveside services will be at Maple Grove Cemetery on Monday, May 8, 2023 at 1:00 pm for immediate family. Family and friends may gather after services at the Vernon American Legion from 4:00-7:00 pm where we will have a Celebration of Life in remembrance of Frank. In Lieu of flowers all donations can be made to the Vernon American Legion. "May The Lord Be With You". Online condolences may be sent to maleckifuneralhome.com